Trade Articles
Published: Construction Management Trade Magazines - 15 Years -
200+ Trade Articles on Construction Industry Topics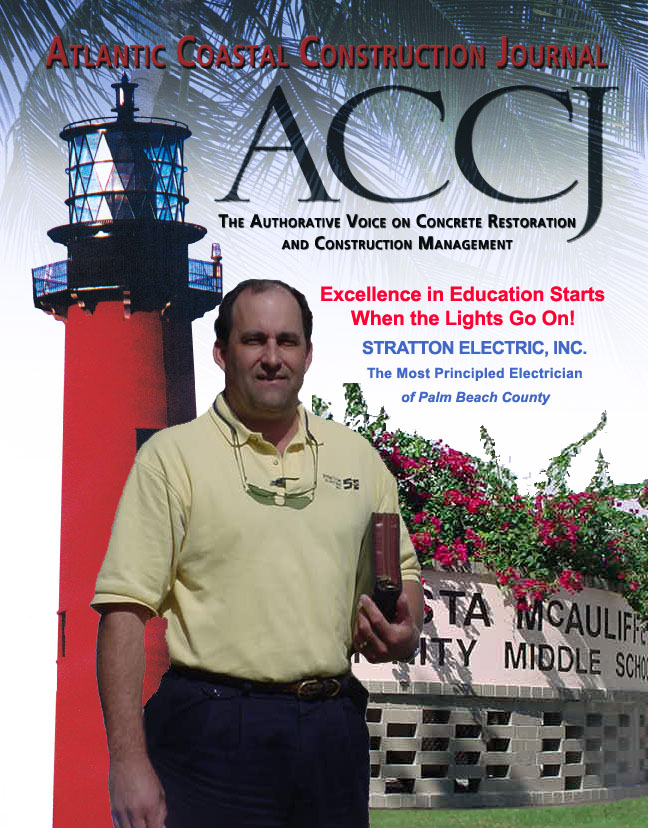 "In my 25+ years in business few people ... have ever really made a very good impression on me. However, a number of years ago I met Art House, who had a vision for making a difference in the property management, construction, and related affiliated industries, by publishing a periodical called Property Management & Construction Review. He expressed to me that his intention was to print pertinent, focused articles whose content would be both educating and (entertaining @ times).

Well, talk is ... cheap so I took the wait and see approach. SURPRISE! SURPRISE! Some people actually attain what they set out to accomplish. Not only has Art accomplished what he set out to do ... but, he is setting new standards in connecting many affiliated professionals through all means of communications." We at Integrity Services feel truly blessed to be a part of what Art and his organization is accomplishing for all of us.
We wish him success as he lunches his newest publication Atlantic Coastal Construction Journal, in which he intended to focus on the leading entrepreneurs behind the scenes of our leading construction industry firms.
- Kenneth Mack President Integrity Services Painting & Waterproofing & Caulking, Inc. Jupiter, Florida
15-Years of Trade Published Articles & Mediums Below
Property Management & Construction Review (P);
Contractor Marketing Magazine (C); Rotary Matters, (R);
New Hampshire Business Journal (N); Hi-Riser (HR); Academic (A);
Public Speaking Engagements (S); Progressive Builder Magazine (M);
New Hampshire Business Review (B); Seminars, Lectures, Presentation (L);
Who's Who in South Florida Construction (W); Florida Construction Journal (F)
- Marketing - Sales - Business Development
Marketing Opportunities: On-Line for the Construction Industry (P)
Bid Awarding Systems: The System Works - The Methods Don't (P) (W) (F)
Clear Skies Ahead: For Construction Management (P)
Positioning the Retail Establishment (L)
Strategic Marketing: Business Development Practices for the Firm (P)
Building Relationships w/General Contractors & Construction Managers: (ACCJ)
Negotiated Construction Management Agreements (P)
Client Centered Marketing (P)
Keeping the Lowest Bidder???? (P)
Client Centered Marketing (P)
Public Agency Construction: Bottomless Pit for Taxpayer Money (P) (L) (R)
Global Opportunities: Mexico & The Construction Industry (L) , (P)
No One Buys Retail Anymore! (P)
Public Relations: Methods to Show Your Strengths (P) (W)
Strategic Advances on the Internet: For the Construction Firm (P) (W)
Marketing Your Construction Services (P) (W) (F)
Marketing Orientation (F) (P)
Contractors Aim For Success (P)
Construction Industry Bid Methodology (P) (W) (F)
Marketing For Architectural & Engineering Firms (P)
Experience Wins Contracts (P)
Construction Industry Market Orientation (P)
Developing a Sustainable Competitive Advantage (P)
Contracting Through Competitive Bid Process (W) (P)
Shake-Out Good for Consumers (N)
Concrete Restoration: Basic Supply-and-Demand Economics (HR)
Beware the Engineer Betrayals on Concrete Restoration Projects (P) (W)
Concrete Corrosion: Where the Affluent Meets the Effluent (P) (W)
Economic Realities of Concrete Restoration: (P) (W)
Mother Nature and Concrete Deterioration (P)
Cathodic Protection: An Alternative to Excessive Restoration Costs (P) (W)
Concrete Restoration Opportunities Overseas: Be Careful (P)
Can't We Just Paint It? (P)

​​​​​​​
Don't Throw Good Money Away (P)
Where the Affluent Meet the Effluent (HR)
Safety First: Do it Right (P)
Condo Associations Do Well to Study Competitive Bidding (HR)
You May be Held Liable for Avoiding Repairs: Your Choice (P)
Yes You Can "CAP" Concrete Restoration Costs (P) (F) (W)
- Education & Workforce Training
Hire Education: Key To Success in Industry (P) (S)
Industry and Academic Partnerships (P)
Hiring Rules ... Do Not Apply! (P)
Work Force Development; Training the Right Staff for the Future (P) Construction Management Education (P)
Spotlight on Excellence (L)
Continuing Education Crucial to Business Success (P)
Community Economic Development: Changes Silently Coming (P)
Community Economic Development: Be Careful What You Wish For (P)
- Partnering - Strategic Alliances
Partnering: A Construction Methodology (P) (F)
Forming Meaningful Strategic Alliances: Partners in Success (P) (F)
Partnering: The Responsible Construction Process (P) (F)
Relationship Marketing in the Construction Industry (P)
Construction Management Agreements Predicated on Commitment-Trust (P)
Commitment-Trust: In the Service Sector (P)
Relationship Marketing in Construction (P) (F)
Building Strategic Alliances with Construction Service Relationships (P)
Financing Restoration Projects (P)
Break-Even Management (L) (S)
Death, Taxes and Deterioration (P)
Avoiding Chapter 11: Early Warning Signs (L)
Construction Loan Servicing: Banks Can Delegate the Risk (P) (L)
Lending To Condo Associations (P)
Financing Condo Improvements (P)
Predicting General Contractor Failure: A Statistical Approach (P)
Building Strategic Alliances with Construction Service Relationships (P)
Condo Associations Do Well to Study Competitive Bidding (HR)
You May be Held Liable for Avoiding Repairs: Your Choice (P)
Yes You Can "CAP" Concrete Restoration Costs (P) (F) (W)
Roofing Matters: Be Responsible (P)
Don't Throw Good Money Away (P)
Where the Affluent Meet the Effluent (HR)
Super-Centers Vie For Position (P)
Elder malls: Sophisticated Shopping Experience for Elderly (P)
Ten Steps To Take When: Hiring an Engineering Firm (P) (F)
Responsibility for Condominium Concrete Repairs (P) (F)
You Are Where You Live: Your Building Creates Your Image (P)
When Florida Shutters (P)
What Property Managers Look For In Hiring Professionals? (P)
Escalating Commitment to Failed Course of Action (P) (W)
Safety First: Do it Right (P)
When to Keep the Lowest Bidder (P) (F)
Construction Site Safety: It's Everyone's Responsibility (P)
- Operations & Management
Construction Management Agreements Predicated on Commitment-Trust (P)
Partnering: The Responsible Construction Process (P) (F)
You May be Held Liable for Avoiding Repairs: Your Choice (P)
Responsibility for Condominium Concrete Repairs (P) (F)
Can't We Just Paint It? (P)
Develop a Preventive Maintenance Program: A Wise Investment (P)
Spotlight on Excellence (L)
Forming Meaningful Strategic Alliances: Partners in Success (P) (F)
Evolution of Construction Management (P) (F) (W)
Affirmative Action in Construction in Construction: Is It Moral? (P) (L) (S)
Ethics and Management (L) (S)
The Art of Construction Management, (N) (B)
General Contracting: Qualities to Look For (P)
Design/Build Conflict of Values (B)
Licensing Laws For Contractors (P)
Only One King in Parking: An Executive Profile (P)
Expectancy Theory in Construction (P) (F)
Segmentation Marketing: Identify the Perfect Client Mix (P)
Lowest Bidder: Sometimes the Apple - Sometimes the Worm (P) (F)
Strategic Planning for the Construction Firm (P) (W)
A Life Cycle Perspective: The Life of a Construction Project (P)
The CM Evolution: A Mature Approach to Sophisticated Projects (P)